The Safe Birth Project was born in 2016 when Bishop Kaggwa tasked Dr. Sherry Teefey, Professor of Radiology at Washington University, to address the challenge of obstetric fistula in Masaka, Uganda.
In the rural districts where we work, village health centers (VHCs) have skilled midwives, but only 44-53% of mothers are delivered by a skilled birth attendant. Why is this? There are many reasons, including access to healthcare resources, lack of education, poverty, and remote distance from healthcare facilities. These barriers were outlined by the World Health Organization (WHO) in 2019.
The Safe Birth Project uniquely brings together ultrasound, obstetric fistula education and microfinancing to address these challenges. After a year of planning, which included discussions with Mindray North America who partnered with us, the Safe Birth Project was launched in January 2017. As of January 2023, we have placed portable ultrasound machines at 22 VHCs. Midwives at each VHC were trained to diagnose three high-risk obstetric conditions that would mandate delivery at a medical facility with an obstetrician. – abnormal fetal lie, placenta previa (obstruction of the birth canal by the placenta) and twins. A midwife was also trained as a sonographer and now provides remedial training to the midwives in basic and advanced ultrasound and works with the midwives to educate mothers about the cause of obstetric fistula and the importance of delivering at a VHC.
Our data show that the program has been successful. The introduction of ultrasound has motivated mothers to come to the VHCs for antenatal care compared to VHCs without an ultrasound machine (graph 1). In fact, between July 2021 to June 2022. 11,335 ultrasounds were performed and high-risk conditions were diagnosed and appropriately managed or referred. Of the 297 who delivered in-hospital to date, zero experienced obstetric fistula.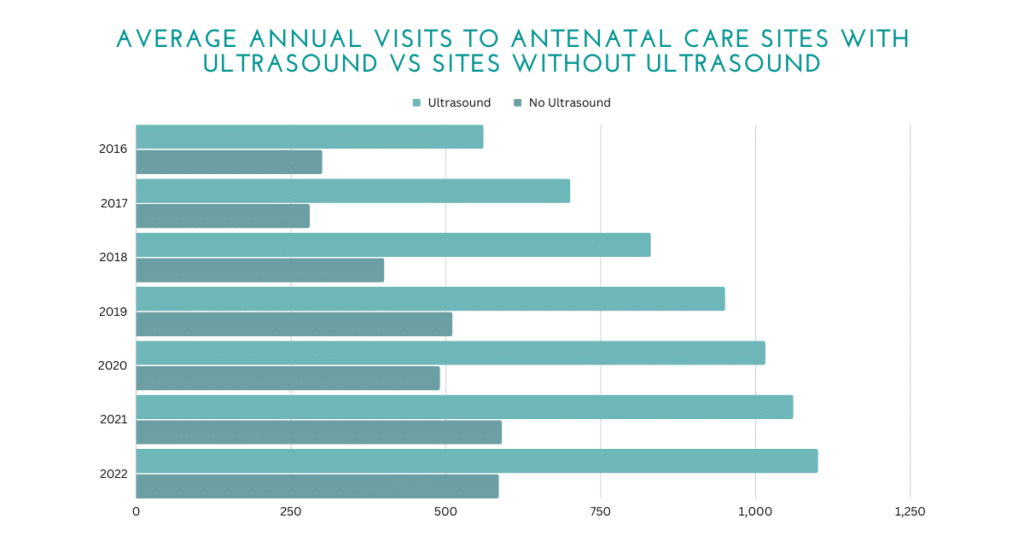 However, many of our mothers struggled to pay their fees: this is where microfinancing comes in. In 2018, we introduced microfinancing to our VHCs and provided funds to develop microfinancing projects (piggeries, event rentals, or room rentals). Mothers were granted piglets (with an expectation of payback to the program) and trained in piggery management by our vet technician. Over time, the mothers realized profits and thus had the financial means to pay for their antenatal services and health care.
By the end of 2022, it was evident that midwives had embraced ultrasound, and it was now an integral part of antenatal care. We also visited mothers who had been granted a piglet and heard many success stories. We visited mothers who had begun second businesses such as animal husbandry (goats, chickens), coffee plantations or small retail businesses. The mothers could now pay for their health care, send their children to school, and buy food for their families. Despite COVID, drought, famine, and Ebola, our VHCs have persevered. We could not be happier!
A very special Thank You to Mindray North America; without their partnership and continuing support, this program would not exist.