Agriculture has been the backbone of Africa's economy for centuries, providing livelihoods for millions and contributing significantly to the continent's gross domestic products. However, limited access to capital and resources has hindered the growth of the agricultural sector in many of the poorest regions of Africa. In recent years, microfinancing programs have emerged as powerful tools to revolutionize farming practices in Africa, empowering farmers to access funds for improved equipment, irrigation, and training. These programs have led to increased productivity, enhanced food security, and, most importantly, improved the lives of countless farmers and their families.
The Challenges Faced by African Farmers
Agricultural practices in Africa have long been characterized by small-scale subsistence farming. Subsistence farmers in rural Uganda struggle to grow enough crops to feed their children or have surplus to sell at a local market for profit. This is often due to a lack of access to credit, inadequate infrastructure, and unpredictable weather conditions.
Additionally, the absence of modern equipment and technologies has posed significant challenges for farmers.  This lack of tools and equipment has directly resulted in low yields and reduced productivity, perpetuating the cycle of poverty in rural communities.  Poverty means daily hunger; child malnutrition; lack of access to clean water, shelter, and healthcare; little or no opportunity to go to school or learn a trade; constant fear for the future; and increased risk of exploitation and abuse.
The Rise of Microfinancing Programs
Microfinancing programs have gained recognition as effective solutions for addressing the financing challenges faced by African farmers. Unlike traditional banks, microfinancing institutions specialize in offering small loans, often referred to as "living loans," to underserved communities, particularly small-scale farmers. These loans serve the purpose of acquiring essential resources such as seeds, fertilizers, and irrigation systems, which in turn empower farmers to enhance their agricultural productivity and income.
In certain scenarios where a "living loan" is extended, farmers receive livestock like cows, with the requirement to repay the debt by passing on the first-born animal. The advantages of receiving a "living loan" parallel those of planting seeds for crop production. The livestock can generate a sustainable income through the sale of dairy milk.
Capacity Building
Providing financial support is important, but a focus on capacity building and knowledge dissemination is what drives sustainability. Farmers can attend training workshops on sustainable agricultural practices, modern farming techniques, and market linkages.  MPA's Cow Program trains farmers to help each other in agricultural best practices.  Equipped with this knowledge, they can optimize their resources, reduce waste, and maximize their yields. Additionally, these training programs empower farmers to explore alternative income sources. 
Empowering Women
Microfinancing programs have had a transformative impact on women in agriculture. As a significant proportion of smallholder farmers in Africa are women, empowering them with financial resources and training has been instrumental in breaking gender barriers. Women have demonstrated exceptional entrepreneurial skills and have proven to be reliable borrowers, utilizing microloans to create thriving agricultural businesses. Empowering women in agriculture has broader social implications, as it enhances gender equality, reduces poverty, and leads to more inclusive and resilient communities.
One Story of Success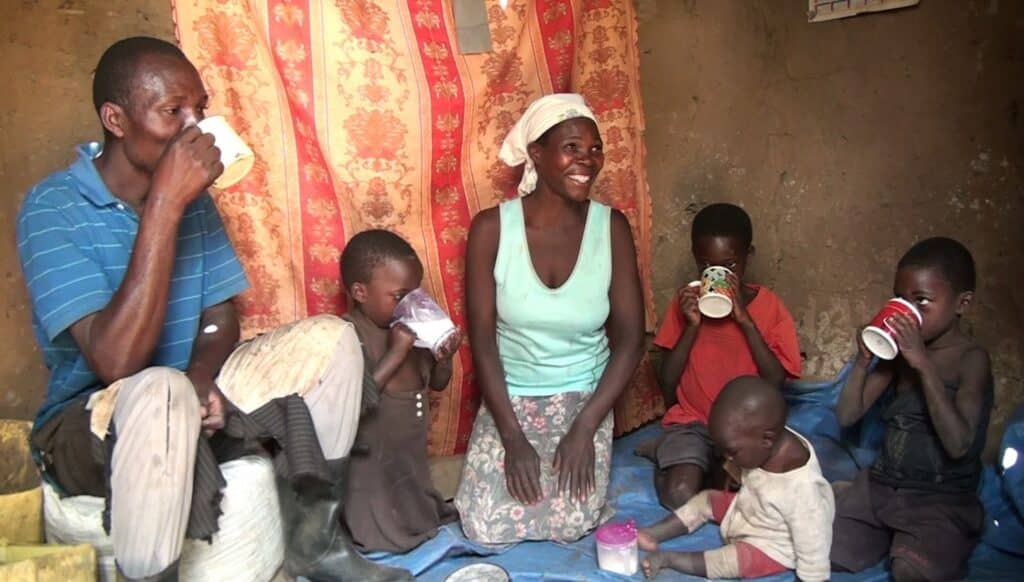 When a family gains access to a sustainable income, it's amazing to witness the remarkable transformations that unfold in their lives! 
 One of the most significant changes we observe is the newfound access to proper nutrition through the incredible power of dairy milk. 
Imagine the impact this has on the health and well-being of children and adults alike. With dairy milk, families can ensure that their loved ones receive the essential nutrients necessary for growth.
Not only does dairy milk provide a rich source of calcium and protein, but it also opens doors to a healthier future. It empowers individuals to thrive, boosts their immune systems, and enhances their cognitive abilities.
By supporting sustainable income initiatives, we are not just transforming financial situations. We are creating a ripple effect of positive change that touches every aspect of a family's life, starting with something as fundamental as nutrition. 
Conclusion
Microfinancing solutions have emerged as a powerful catalyst for transforming farming practices in Africa. By providing farmers with access to funds for improved equipment, efficient irrigation systems, and valuable training, these programs have increased agricultural productivity and food security across the continent. Beyond economic gains, microfinancing has brought about social transformation by empowering women and creating more sustainable and resilient farming communities.