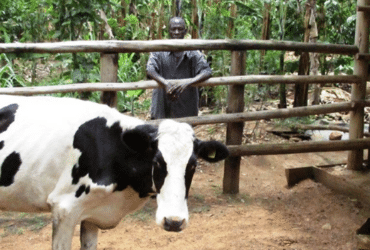 Project Description
"Receiving my cow has taken me from a peasant farmer to a commercial farmer. The quantity and quality of crops have improved dramatically due to the constant application of manure from the cow. Who would have thought in retirement, that I would have a daily income from a cow's milk? It has allowed me to renovate my house, buy a motor bike, and have a TV with a solar kit." – Edward Bakka
Edward Bakka, aged 68 and family live in the Lwaggulwe Parish in Kyotera District. They received their cow in 2017 which has helped him and his family improve their crop yields since they previously could not afford to buy fertilizers. Today, their crop production has almost doubled and their family no longer struggles to have enough food to eat but also can sell the excess crops for income.
"Mary," their cow, produces over 13 liters every day which they first drink the milk needed to keep themselves healthy and strong, and much like the crops, sell the excess at their local trading center.
From the milk sales Edward, who only completed primary school himself, is able to pay for his grandchildren's school fees and offer them the opportunity for a full education which he never had.
After many months, Edward was able to save to purchase a solar system that has provided lighting at night and his family can even now enjoy watching TV shows!
"In the future, since we managed to pass on the first female calf, we intend to keep other female calves in order to increase our income with increased milk production. In the past, due to the over-use of our farmland, we had poor crop yields as we could not afford to buy fertilizers. Now our cows provide us with enough manure enabling us to plant a new banana plantation and we hope to plant other cash crops such as coffee and vanilla."