MPA's Safe Birth Initiative works to link maternal health with microfinance and income opportunities for women in Masaka, Uganda. It currently includes four related programs: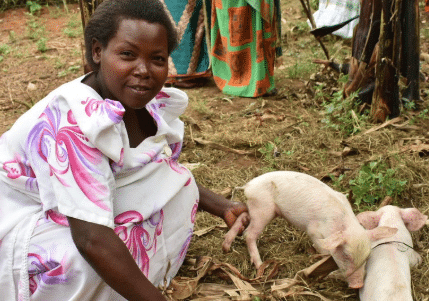 Piglets for Post-Fistula Women
PFW began in 2014, designed to help women in extreme poverty after recovery from obstetric fistula, a chronic open wound caused by difficult childbirth. The condition renders the women incontinent and unable to work.
At Masaka's Kitovu Hospital, women can get the surgery necessary to reverse the condition. The post fistula woman receives the piglet from MPA along with six months of food and medication. She asks two friends to help her raise the piglet. When the post fistula woman's pig has piglets, one piglet is passed on to each of her friends. Then after the friends of the post fistula women have piglets, each helper passes one piglet back to the program. The women sell additional piglets to generate income.
Everything is coming together with Oliver now working as our on site sonographer. We are also beginning microfinancing projects that generate funds to support women coming to the clinics. – Dr. Sherry Teefey, Missouri
Safe Women Alternative Projects
Inspired by the Piglets for Post-Fistula Women project, SWAP is a new effort to support and engage groups of women in microfinance opportunities beyond animal husbandry. These include developing small businesses such as tailoring, hairdressing and catering. By the end of 2018, MPA supported ten women's SWAP groups.
Safe Birth Prevention Village Health Clinic Project
MPA has long recognized the connection between extreme poverty and poor maternal health. In 2017, MPA initiated the Safe Birth pilot to provide women of the Rakai District in Masaka, Uganda, with an opportunity to receive an ultrasound screening and prenatal care at three clinics. Throughout 2018, Safe Birth was then expanded to 13 additional clinics.
This effort was directed by MPA Board Member Dr. Sherry Teefey, a radiologist, who delivered the ultrasound machines and trained the midwives to identify situations (for example: twins, abnormal fetal lie, or placenta previa) that place women at high risk for obstructed labor.  The midwives are then able to advise the pregnant women to plan to deliver at a hospital or Level 4 Clinic, increasing their chances of a safe delivery.
Health Income Projects
This effort is intended to connect microfinance and maternal health by supporting new, sustainable revenue sources for health clinics and pregnant patients. These projects include the construction of piggeries and other group income projects at clinic sites. They generate funds that support clinic access, supplies and equipment, and introduce women to microfinancing. Launched in 2018, MPA now supports one piggery and is accepting proposals for additional health center projects.